underpass presents:
Igorrr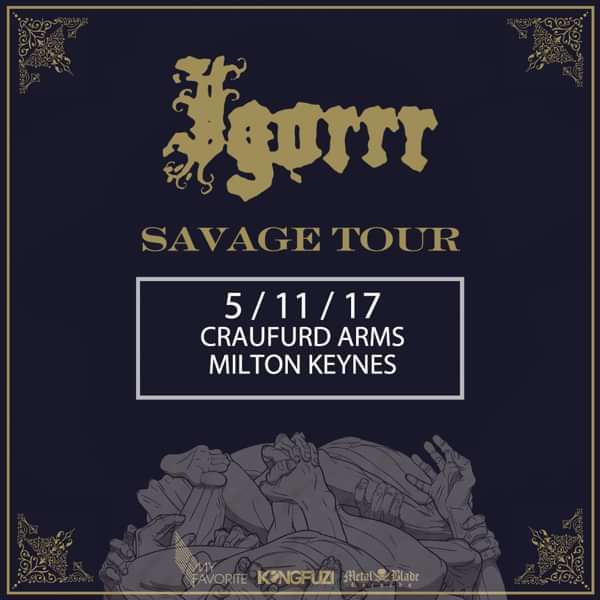 THE CRAUFURD ARMS PRESENTS......
SUNDAY 5TH NOVEMBER 2017
Igorrr + Supports
£13 adv
TICKETS AVAILABLE FROM www.thecraufurdarms.com
SEETICKETS http://www.seetickets.com/event/igorrr-05-11-17-craufurd-arms-milton-keynes/the-craufurd-arms/1108953
WEGOTTICKETS www.wegottickets.com/event/403353
Doors 7:30pm
14+
The Craufurd Arms, Wolverton, Milton Keynes, MK12 5LT
FOLLOW US ON TWITTER
twitter.com/craufurdarmsmk
twitter.com/#!/underpasspromo
IGORRR You thought Aphex Twin and Venetian Snares were the most spaced out and bizarre electronic acts out there ? Let's talk about Gautier Serre, the brilliant mind behind IGORRR enigma.
IGORRR is a Frankenstein creature brought to life in 2006 and sadistically mixing many opposite styles of music in its albums, including electronic music, breakcore, baroque music, death metal, and trip hop among many others. Gautier Serre is continuously pushing boundaries, making mind split a philosophy : inviting both lyrical singers and Mayhem's guitarist on his album 2012's "Hallelujah", entrusting chickens to write songs while making baroque music gracefully shine, working with Morbid Angel and playing prestigious Berghain... For ten year now the French musician and producer is frantically crafting a dazzling, mysterious and brain crushing piece of work.
With a third album "Savage Sinusoid" yet to come in june 2017 on Metal Blade Records, IGORRR is once again hitting the road all over Europe in a full band configuration including two singers and one drummer.