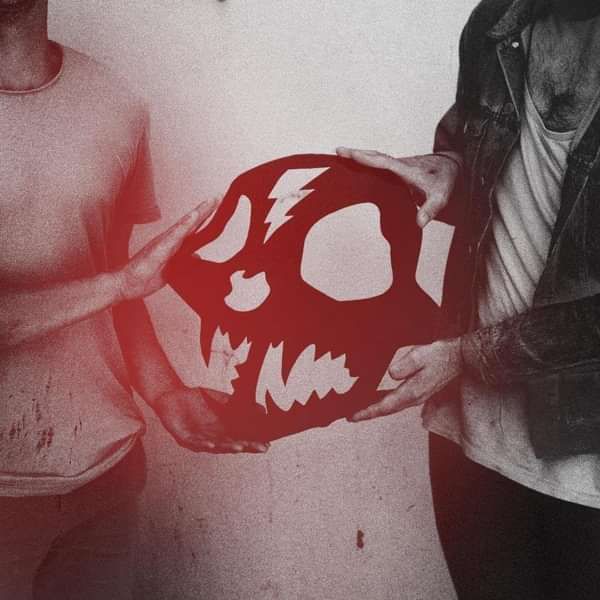 Line Up
Snarling two-headed riff dispensers Haggard Cat are gearing up to release their third album, Common Sense Holiday, on 13th March via Earache Records. The Nottingham-based duo have previously taken the foundations laid down by Mississippi delta-blues artists and relayed them through an earth-shattering sense of groove and a Russian Big Muff dialled to 11. But with Common Sense Holiday, Haggard Cat are painting with broader brushstrokes, incorporating new melodic detours and unexpected left turns which expand the canvas upon which they work.
Opening track First Words features a distinctive guest in the form of Haggard Cat advocate Jamie Lenman and showcases the immediacy with which the two-piece can lodge a memorable riff deep inside the recesses of your brain. So far, so Haggard Cat, but elsewhere, Rational glides effortlessly on a mid-tempo lilt and features multi-tracked backing vocals that wouldn't have sounded out of place on a record by Queen. The Natives swoons in on a lethargic military beat and sparse, ethereal guitar notes before bursting forth with a scintillating swagger. Cheat features a silky smooth sax solo provided by Black Peaks crooner Will Gardner before exploding with the intensity and freneticism of a bar-room brawl whilst Ghosts Already rides in like the fuzzed-up bastard child of an Ennio Morricone score. All these different elements result in the most dynamic, diverse and engaging set of songs this powerhouse duo has ever put their name to.
Haggard Cat's DIY ethic and propensity for pulling off memorable antics has already garnered them a reputation as a band that push boundaries beyond the status quo. A recent stunt involved the two musicians holed up in a small concrete box for 24-hours as a visual metaphor for how Brexit will impair British bands' abilities to tour Europe (the results of which can be seen in their video for European Hardware). The pair also got creative with their home made ode to kabuki theatre in the video for Bone Shaker and defied expectations when they opened 2000Trees festival by playing a set exclusively made up of Nirvana covers a-top the Signature Brew bar. Even the band's earliest gigs were injected with a frisson of danger (and no doubt intense intoxication) as the terrible twosome would place a bottle of whiskey on-stage and proceed to play until said bottle was empty.
Matt Reynolds (vocals and guitar) and Tom Marsh (drums) have been playing together as a two-piece since 2011 (originally under the more unwieldy name of Haggard Cat Bothday Present, or HCBP for short). They self-released their debut Charger, a heavy-blues smash-suite of 10 songs recorded live in one day, on Valentine's Day in 2013. But it was signing to Earache and the release of 2018's Challenger that began to put Haggard Cat on the map, with the duo picking up support slots with the likes of Enter Shikari, Band of Skulls, Dead Kennedys, Jamie Lenman, Black Peaks, DZ Deathrays and Ugly Kid Joe as well as slots at Glastonbury, Boomtown festivals and main stage appearances at 2000Trees and ArcTanGent. And the two-piece already have support slots lined up for 2020, making appearances alongside The Virginmarys and InMe. Common Sense Holiday captures the lightning in a bottle dynamic between two players locked in a psychic groove whilst continuing to evolve and expand on the sound that has won over so many crowds across the UK and Europe.
View Profile