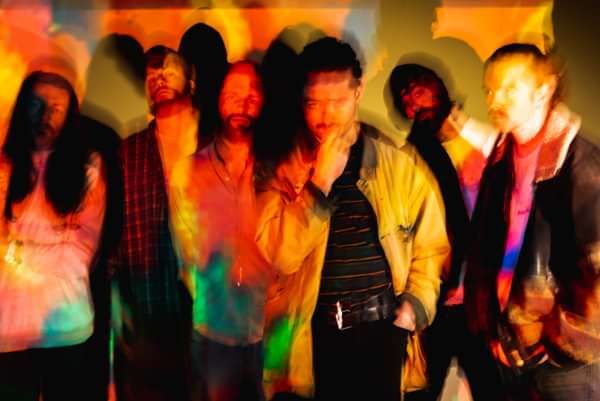 Pre-Save THUMPER's new single 'Ad Nauseam' on Spotify now ↠https://presave.io/t/adnauseam Press Shot ↠bit.ly/THUMPER_PressPic
"Two drummers making an epic noise on stage. Such a huge band. Really really massive sound. This is Thumper right now with 'In My Room' !" - Abbie McCarthy, BBC Radio 1
"A sonic thrust impossible to ignore"- Tony Clayton Lea, The Irish Times
"In Dublin, it's been thrilling to witness The Murder Capital, Fontaines DC, and THUMPER to see who can be the most viscerally thrilling both on stage and on vinyl" - Hot Press Magazine
"Bubblegum pop hooks and ragged guitar noises collide on THUMPER's bratty, frenetic punk rock." - Q Magazine "the group have been conjuring a storm with a roaring indie rock sound that's sharp, punchy and damn right epic" - Tap The Feed, Bristol, UK
Eurosonic's top pick of 2020, THUMPER catapult into 2020 unleashing a brand new lively single, 'Ad Nauseam', streaming from Fri 28th Feb. 2019 saw them release three singles "(You're Bringing Me) Down", "In My Room" and "AFL", all of which received extensive UK radio support from Steve Lemacq, Huw Stephens, Daniel P. Carter, Kerrang! Radio & Radio X, as well as several Spotify playlists including New Music Friday, The Rock List and even a feature on E4's Made in Chelsea.
Last summer THUMPER released their debut EP "Out of Body Auto-Message" (produced by Daniel Fox of Girl Band) to a sold out show in Dublin's Lost Lane, before embarking on a 3 month festival tour which included key slots at Primavera (Barcelona), Knockanstockan, Body&Soul, Electric Picnic and many more. The latter half of 2019 saw the band complete their first headline tour of the UK, inc sold-out shows in London and Bristol, before finally return to Dublin for their second homecoming sell-out of the year in The Grand Social.
This year anticipates rampant success for Dublin's noise-pop sextet, from performing at The Netherlands infamous Eurosonic festival, alongside a headline UK tour, topped off with performances across Belgium, Germany and France.
Line Up
THUMPER are a noise-pop quartet from Dublin, delivering bubblegum pop through a wall of sonic death. With a reputation for raucous and frenzied live shows, 2 EPs full of lo-fi ear worms (think Sonic Youth vs Abba), and penchant for howling feedback and pounding rhythm, this is a band u'll love 2 love.
THUMPER have played alongside several Irish contemporaries such as Squarehead, Fangclub, Raglans, OTHERKIN & Bitch Falcon (with the latter two featuring on the single "Rent Is Due"), as well as with Rough Trade's The Prettiots.
Summer 2016 saw THUMPER release their second EP 'Magnum Opuss' on Little L Records, and appear at several festivals including Electric Picnic (IE), Knockanstockan (IE), Other Voices and TRUCK Festival (UK). Magnum Opuss was subsequently featured in the top 10 EPs of 2016 by The Last Mixed Tape, REMY and District Magazine, with the single 'Dan The Man' also featuring in The Thin Air & District Magazine's top 100 songs of 2016.
"New, exciting, revolutionary, and outright inspiring" IMPOSE Magazine
"This summer should see THUMPER become unstoppable" State.ie
"One of Ireland's most exciting live bands... Magum Opuss is one of the records of the year" The Last Mixed Tape
"Few bands will release a better EP than Magnum Opuss this year." Remys Music & Film
"A couple of lauded EPs has seen their reputation rise but it's live that THUMPER's name is spreading faster than Donald Trump's bullshit. THUMPER has quickly become one of the most exciting live bands in Ireland. They leave an indelible mark in your memory after a performance" Golden Plec
View Profile