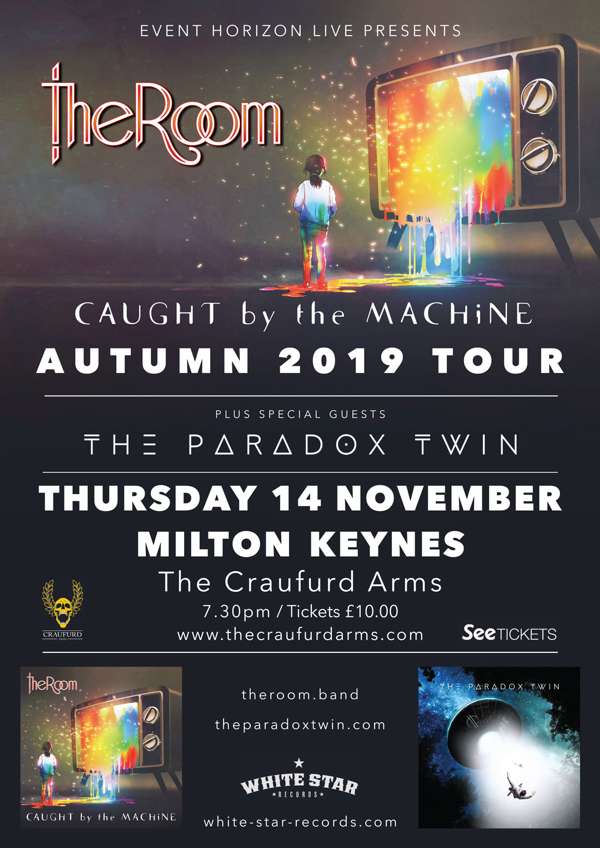 THE ROOM
The Room was formed in 2010 by Andy Rowe along with Martin Wilson and Steve Anderson from neo-prog rock band Grey Lady Down. The Room never fail to deliver an outstanding performance - both in the studio and in a live environment.
Recent history had seen the band tucked away in the studio, writing and recording their third studio album Caught By The Machine, which was released on White Star Records in February 2019'. In spite of this, The Room still managed to rack up a nomination for Best New Band at the 2016 Classic Rock Society awards, as well as partaking in a busy festival season, some headline shows, and even the release of a live performance at Wolverhampton's The Robin 2 on DVD in 2017. https://theroom.band/
THE PARADOX TWIN
Fronted by main songwriter Danny Sorrell, The Paradox Twin are a progressive rock quartet who released their debut album The Importance of Mr Bedlam on White Star Records in 2018.
Talking about the concept of the 7 song opus that has tracks ranging anywhere from 6-10 minutes long, Danny explains that he is "influenced and inspired by conspiracy theories and the idea that humans on Earth are being controlled by extra-terrestrial beings." The lyrical content of the album can be linked to various conspiracy theories such as 911, and different ideas on the topics of otherworldly seers are gradually unveiled throughout this fine piece of work. https://www.theparadoxtwin.com/