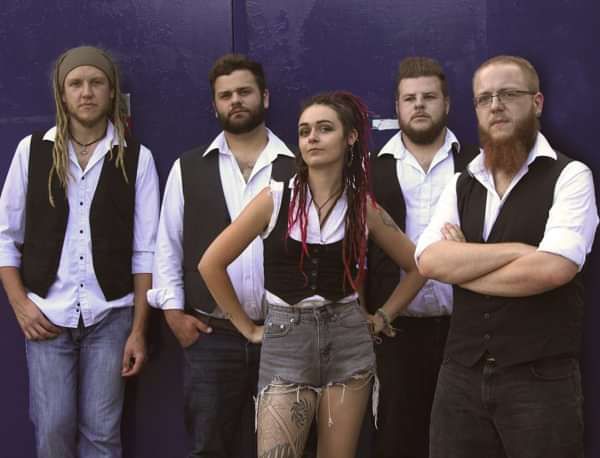 Through a fusion of folk instruments, punk energy and catchy pop melodies, Black Water County's sing along choruses rile up audiences all over the UK and across Europe since their first headline tour in 2018. The five piece, 20 something group of friends from Bournemouth came together through their love of playing music live. They tell stories of relationships, the people they meet on the road and their own angsty experiences of growing up looking through the bottom of a pint glass. Fronted by Tim and Shannon's spirited vocals, the band have kicked the party off at hundreds of festivals including Boomtown Fair, Beautiful Days and Camp Bestival and won a place on Fireball's 'Fuelling the Fire Tour' in 2016 and 2018. After independently releasing debut album 'Taking Chances' in 2017 along with singles 'One More Beer Won't Hurt', 'Start Something New', 'The Painful Truth' and 'Under Skies of Black and Blue' Black Water County have been focused on unrelenting gigging and writing the next album due for a 2020 release.
'High octane performance style and strong influences from Flogging Molly, The Rumjacks, The Dreadnoughts, The Pogues and the Levellers what is there to not like about Black Water County?' – gigsandbands.com 'Their name is steadily starting to spread across the length and breadth of the UK and beyond. With a European Tour in the pipeline and a host of summer festivals ahead, the future is looking very bright for this talented young band.' – Rock Regeneration 'It was Black Water County who landed themselves a place on the stage with Flogging Molly in December. With help from a busload of Bournemouth lunatics wearing 'Folk Shit Up' T-shirts, the Emerald Isle-influenced six piece started the first moshpit of the evening and cemented themselves as the judges' favourite for the south coast blowout.' – Kerrang! Features 'A strong dual vocal, multi-instrumentation and an almost swashbuckling attitude to stage presence.' – rock-regeneration.co.uk
Line Up
Black Water County have been on an exciting adventure since forming in Spring 2013, taking hometown Bournemouth and surrounding territories by storm in a 3 year whirlwind of festival dates and headline shows that have caused a stir in many folk-punk circles. Using a mixture of traditional folk instruments and modern rock and punk influences, BWC are making waves in the music industry.
View Profile