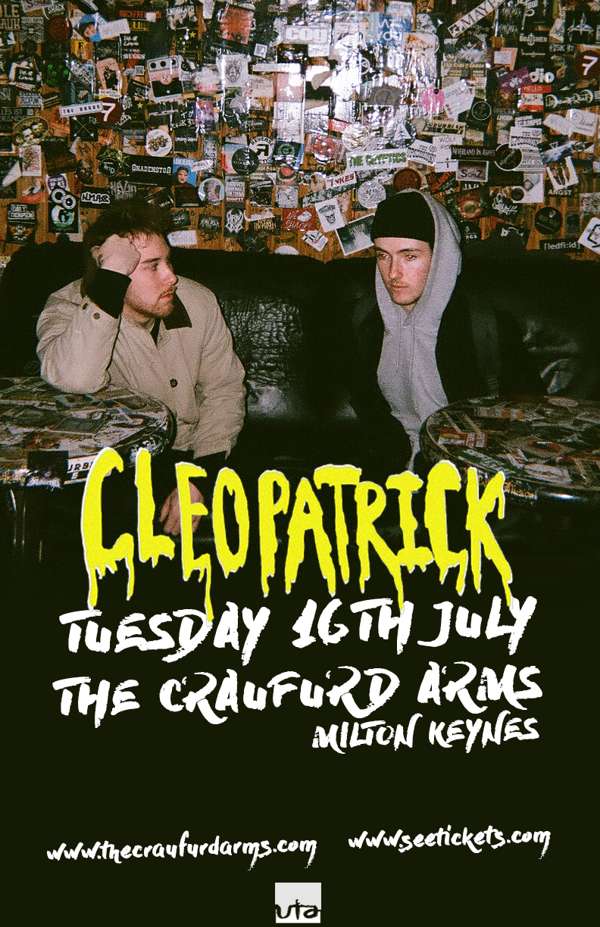 First or last, somewhere you've ashed the cigarette that's gonna take you down.
cleopatrick are a heavy alt-rock duo from the tiny town of Cobourg, Ontario - yup, the 'c' is lowercase.
Best friends since the first day of kindergarten, frontman Luke Gruntz and drummer Ian Fraser translate their lifelong connection into a powerful unification of sound. With a bastardized bass amp and split signal, Gruntz simultaneously commands the range of bass and guitar topped with provocative blues grooves and take-down breakdowns.
In early 2016, the pair recorded their first EP 14 in its entirety in a single studio session and was later dubbed one of the most promising acts of 2017 by 94.9 The Rock's "Generation Next". Now piling all of the torment and rhetoric that comes with chasing big ideas within the limits of a small town, cleopatrick is on a mission to reverse the stigma against modern rock bands, backed by the style, sound, and stats to prove it.
Upon releasing "hometown", the first single off their upcoming sophomore EP the boys, cleopatrick amassed over 7 million Spotify streams in 6 months and have been featured on the front cover of  "Rock This", the world's largest rock playlist. Now in the global spotlight, the band is hitting the road with one and only one message: fuck whatever you think rock is.