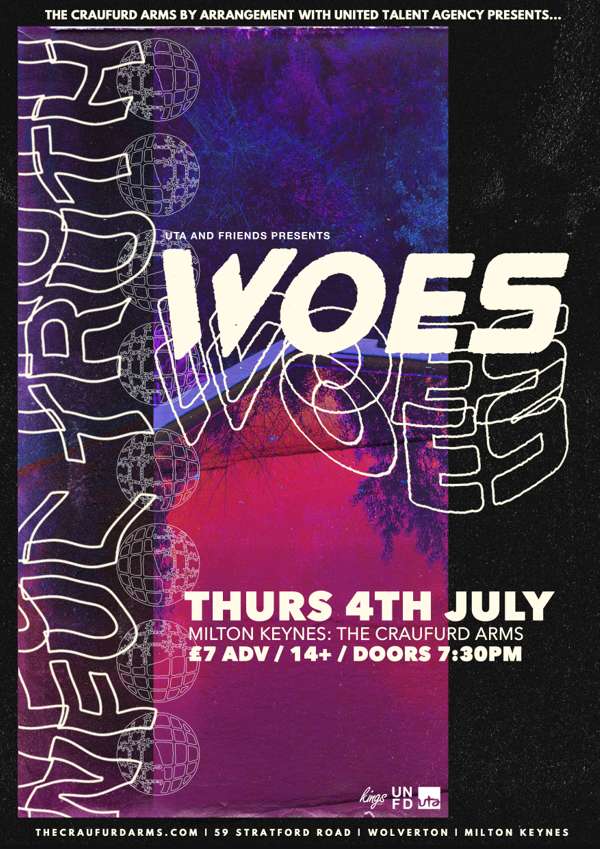 Line Up
Music had always came easy to the members of Woes, who had toured the UK and Europe multiple times in previous bands. All while holding down serious jobs, supporting loved ones and carving a name for themselves as talented performers in their own right. Creatively spent and losing focus, towards the end of 2015, they turned a mirror on themselves and decided to make a change. At the beginning of 2016 Woes was born, with one goal. To do absolutely everything involved in being a musician with 100% effort and application, no excuses.
The early part of 2016 was spent writing, the band turned to Seb Barlow (Neck Deep, ROAM, WSTR) to help them realise their vision in the studio. Often working 19-20 hour days recording and perfecting songs, making alterations minutes before parts were recorded to create a 5 track EP that truly reflects the best they have to offer. Songs that veer from buoyant messages of hope to crushing despair and back again, without ever losing direction. That combine high-energy, poppy hooks with technical instrumentation that belies their one guitar set up. And that can be delicate one minute, and mind-bindingly heavy the next.
The remainder of 2016 will see Woes release their debut self-titled EP and head out on tour across the UK in it' s support. With years of touring experience their shows are full of anthemic choruses, tight vocal harmonies and huge, thundering drums. Already one of the most hyped bands in the UK pop punk scene, before even releasing a song, Woes are ready to blow all expectations away with a record that pushes genre forward with new layers of intricacy and depth, whilst packing in the youthful energy and massive choruses fans of the genre have come to know and love.
View Profile