underpass presents:
MK Alternative Market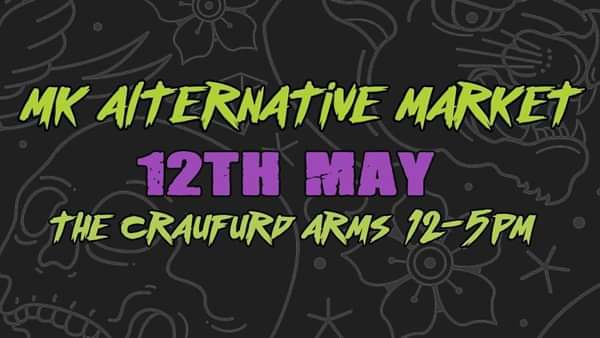 Welcome to MK's first Alternative market at the Craufurd Arms on 12th May!
Got some alternative clothes, shoes, collectables, games, comics or home ware you want to sell? Are you a small business who sells unusual items like creepy jewellery or art? Do you make stuff but have never held a stall before and want to give it a try? So long as it falls under 'alternative' - rock, punk, goth, steampunk, fantasy, geeky, occult, or just plain odd - then come grab a stall with us!
Free entry for browsers and buyers!
PLEASE READ THE FAQs BEFORE APPLYING! https://tinyurl.com/y6a89mqx
Application forms are here: https://tinyurl.com/yxeawlu6
What can I sell? As long as it's 'alternative', most things should be fine - second hand items and your own hand-made goods are welcome. The sale of alcohol and food is not permitted (nor anything else that requires a licence). For hygiene reasons, sale of second-hand underwear, makeup, and earrings/other piercing jewellery is not permitted. If you plan to sell any electronic goods, they must have an in-date PAT test label. If you are a wholesale retailer (which we strongly discourage) your wholesale stock may only represent 20% of what you're offering - we want to encourage individuals and independent traders!