underpass presents:
Comedy:mk Edinburgh Previews Tom GK & Tom Skelton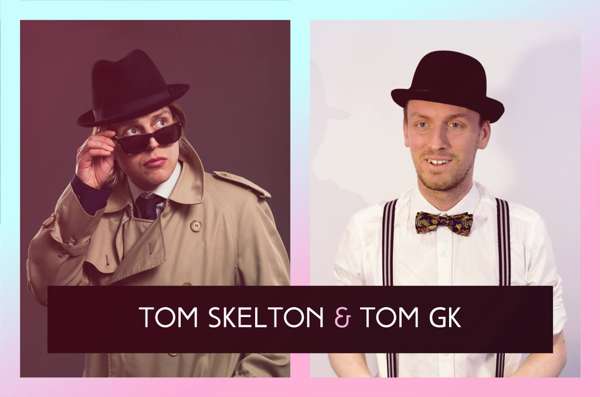 Two sons of Milton Keynes return to the city with their brand new Edinburgh Fringe shows, previewing their works-in-progress in the great work-in-progress that is MK... They will be introduced by one of their comedy and overall inspirations, their politics teacher at Stantonbury, John Gibbs, so pop down to teh Craufurd Arms and see how our works are progressing. We know all the right words, just not necessarily in the right order... Only £5!
TOM GK: HEARING LOSS - THE MUSICAL Are you, or someone you love, pretending you're not losing your hearing? Well at 31, Tom GK is losing his. Where's it going? What's this like? The former music critic and current comedian explores this in the only way that feels right: a musical. After putting a horse on trial in 2016's Rights and Responsibilities and discovering what David Bowie was up to in heaven in 2017's What Bowie Did Next, Tom GK's third show sees him use his mostly surreal, sometimes disturbing and always hilarious approach to comedy. 'Spot on' (List).
TOM SKELTON: BLIND EYE SPY 2023. Post-Brexit, MI6's budget has been slashed, but they need a new agent in Berlin. Out of work comedian Tom Skelton has 'seasoned abilities as an improviser' (Chortle) and making things up as he goes along, speaks 'ein Bisschen Deutsch', and is registered blind – and who would suspect a blind spy? A Le-Carre-On character comedy thriller unfolds as Tom wanders blindly into Berlin's dark underbelly of espionage, betrayal and currywurst. 'A wonderful narrator' (Times). Inventive and very enjoyable' ★★★★ (Mirror). 'An extremely clever one-man show that cries out for a bigger stage' ★★★★ (Ed Fest Mag). 'Funny, varied and inherently cheesy, but also full of candid vulnerability…sends you back out into the world with a spring in your step' (Chortle).
Line Up
Comedy:mk Edinburgh Previews Tom GK & Tom Skelton