underpass presents:
HOP Events: Metal 2 The Masses Milton Keynes 2018 HEAT THREE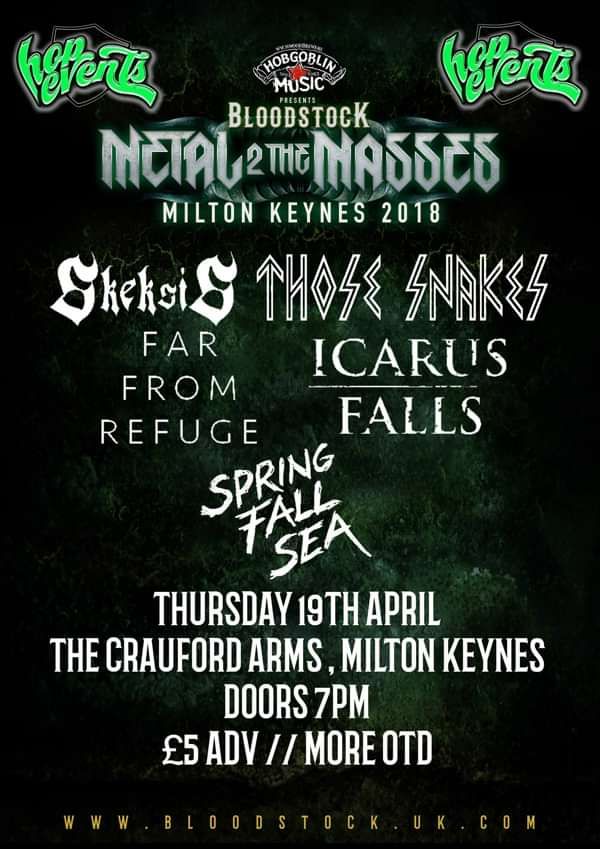 METAL 2 THE MASSES 2018 come to The Craufurd Arms, Milton Keynes, to see the best of unsigned metal bands compete, head to head, for their chance to play at the UK'S number one metal festival: Bloodstock Festival
HEAT THREE Skeksis @skeksis.uk
Far From Refuge Far From Refuge is a metal band from Cambridge, England. Formed in 2017, their music takes elements from progressive metal, metalcore and melodeath. The band consists of Joél Sutherland, Suran Jayathilaka, Aidan Jee, Matt Poskitt and Ákos Kobela.
Those Snakes Psychedelic Thrash Metal band from England, United Kingdom
Icarus Falls Icarus Falls are one of the UK's finest Hard Rock Bands!
2016 - Pieces EP - Self Release - Available on Spotify 2018 - Venom - Due mid 2018.
Spring.Fall.Sea We will always search and never find. Formed in Bangkok, Thailand in 2015.
---
Thursday 19th April TheCraufurd Arms, Milton Keynes Doors 7pm £5 ADV // More OTD
Bloodstock #BOA #BloodstockOpenAir #M2TM #Metal2TheMasses #M2TM2018 #Metal2TheMasses2018 #M2TMMK #M2TMMiltonKeynes #Metal2TheMassesMK #Metal2TheMassesMiltonKeynes #HOPEvents
Line Up
HOP Events: Metal 2 The Masses Milton Keynes 2018 HEAT THREE