underpass presents:
Area 51 Raid Afterparty!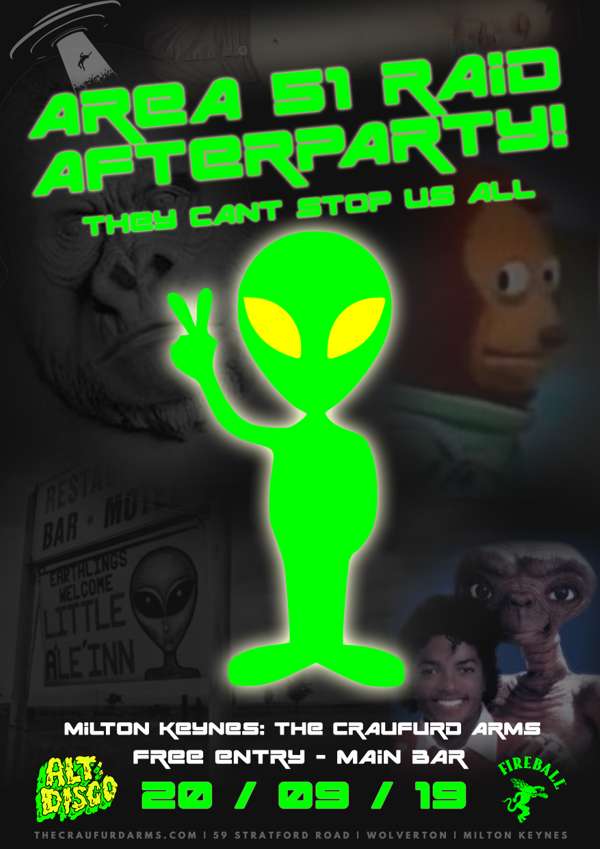 The Craufurd Arms (Live Music Venue) and Altdisco Presents...
THE AREA 51 RAID AFTER PARTY! They Cant Stop us all!
To Celebrate what can only possibly be a successful raid of AREA 51 on the 20th September we invite everyone back to wait for it all to blow over!
9PM - 2AM
AREA 51 RAID FANCY DRESS OPTIONAL
AREA 51 MEMES
INFLATABLES
POST RAID CELEBRATORY MUSIC
ALIEN ESCAPEE'S, NARUTO RUNNERS, ROCK THROWERS AND KYLES WELCOME
18+
Follow us on Insta: craufurdarms
3 - 4 - £6 Bottles of Amstel 3 - 4 - £6 Selected Shots 4 - 4 - £10 Jagerbombs £2.50 House Spirit & Mixer
★ SIGN UP FOR A PARTY HARD CARD FOR EXCLUSIVE GIVE AWAYS AND DEALS ★
£3 - Pints Fosters £3 - Snake Bite & Black £3 - House Double and Mixer £1 - Selected Shots £2 - Jager Bombs £1 - Fireball Shots £2.20 Maltsmiths Pils
The Craufurd Arms, Wolverton, Milton Keynes, MK12 5LT
FOLLOW US ON OUR SOCIALS
twitter.com/craufurdarmsmk instagram.com/craufurdarms/
---