underpass presents:
Good Wrestling: Good Stock
Buy Tickets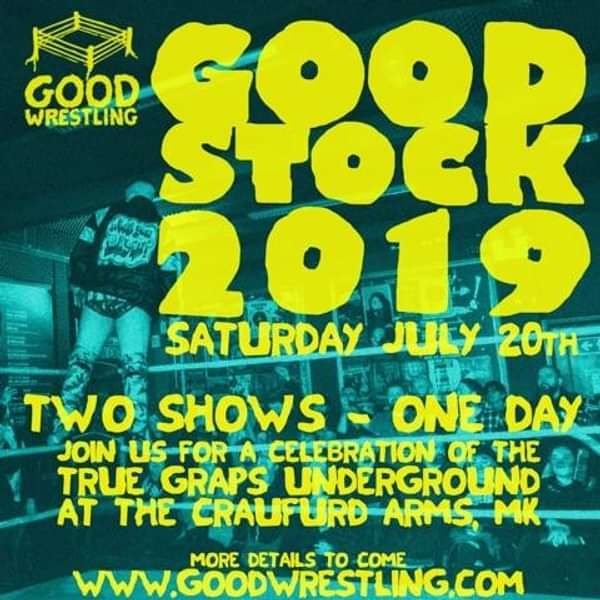 GOOD Wrestling presents show number fifteen & sixteen GOODSTOCK 2019
Featuring the GIFT of GOOD tournament with MILLIE MCKENZIE, MIKE BIRD, BRENDAN WHITE, SPIKE TRIVET, SONER DURSAN, CHARLI EVANS, SHAZZA MCKENZIE & RICKEY SHANE PAGE!
EARLY SHOW CHARLI EVANS vs RICKEY SHANE PAGE SHAZZA MCKENZIE vs MILLIE MCKENZIE The debut of BETWEEN THE LINES, where SUNSET SKIP interviews EUGENE MUNN!
EVENING SHOW GIFT of GOOD semi finals and final BEANO vs BIG GRIZZLY for the GOOD Wrestling Grand Prize
Plus so much more...
2 shows in one day, GOOD15 at 1pm, GOOD16 at 6.30pm - Along with the two shows will be lots of Graps related activities from the Graps Underground as well as food vans, music and more!
This is the biggest event in GOOD Wrestling history, to be a part of it GET.YOUR.TICKETS, TELL EVERYONE!
Tickets available soon at http://www.goodwrestling.com
One show : £14.00 Both shows : £25.00
**Please note, seating is unreserved and on a first come first serve basis, to ensure you get a seat arrive early. Tickets are e-tickets, please bring a copy of your PayPal receipt on the day.
Doors at 1.00pm / First bell at 1.30pm Doors at 6.30pm / First bell at 7.00pm
Line Up
Good Wrestling: Good Stock