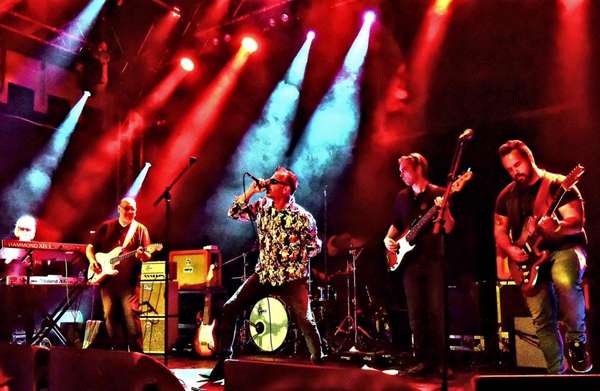 JUMP at The Craufurd, Milton Keynes
Tickets available from https://www.seetickets.com/event/jump/the-craufurd-arms/1289403
JUMP make their full-band debut at The Craufurd, having appeared as an acoustic trio supporting the mighty Lifesigns in 2018. This irrepressible six-piece has a back catalogue of thirteen independent albums and whilst JUMP has worked and toured with many of the biggest names in progressive rock, the band defies easy categorisation. It would be fair to say that JUMP fuse many musical elements to create a unique chemistry that is delivered in a hugely entertaining presentation, fronted by master storyteller John Dexter Jones. A short biography of a band with a near 30-year history is impossible but tour supports and appearances with artists such Marillion, Fish, Midge Ure, IQ, Pallas, Spocks Beard, Rick Wakeman, Steeleye Span etc etc gives some indication of the esteem in which this independent troupe is held.
Reviewing the band's recent appearance at Resonate Festival at the O2 in Islington, PROG Magazine reported that...
"According to frontman John Dexter Jones, openers JUMP are no more a Prog band than a cat. However, they unfailingly know how to work a crowd. Animate, articulate and amusing, the Bangor bard leads the folk-rock infused stalwarts through a roistering set that includes new numbers: the nostalgic, wistful Heroes We'd Be and the full-on rant Breaking Point."
Whilst of the same show, The Progressive Aspect said...
"A cracking start with Jump leaving the audience rocking on their heels - no prisoners were to be taken. Jump have been around for 25 years plus, but you wouldn't know it from the exuberance of their delivery; slick, professional, and John Dexter Jones is entertaining in every aspect you want from a front man. Songs of this and that, from those areas that only progressive music ever seems to touch. I loved the set, and I hope that my first experience of Jump is not my last."
JUMP's appearance at The Craufurd brings to mind Milton Keynes memories from across the decades. Late night appearances at Dukes Bar in the 90s particular, were a staple of the band's early career. If you remember those days, you won't want to miss this!
For more information visit www.jumprock.co.uk