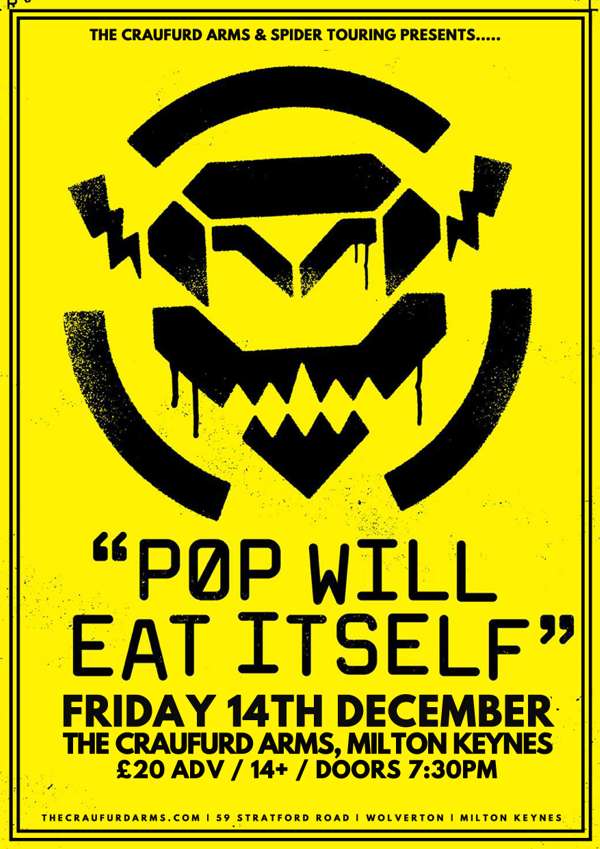 The Craufurd Arms (Live Music Venue) and Spider Touring presents....
FRIDAY 14th DECEMBER
Pop Will Eat Itself + Supports
£20 adv
Doors 7:30pm
14+
THE CRAUFURD ARMS - AWARD WINNING LIVE MUSIC VENUE Wolverton, Milton Keynes, MK12 5LT
FOLLOW US ON OUR SOCIALS twitter.com/craufurdarmsmk
instagram.com/craufurdarms/
In 1987, Pop Will Eat Itself surprised the independent music world by morphing overnight from two minute, three chord indie pop wonders into hip-hop rock crossover pioneers. Years ahead of their time, PWEI produced "Box Frenzy", a furious mix of beatboxes, metal riffs, MC'ing and pop songs. Featuring the notorious "Beaver Patrol" single, and the hugely successful "There Is No Love Between Us Anymore", the album brought the band a whole new audience and opened them up to as much praise as it did ridicule amongst a perplexed music press.
This unique band, whose influence touched the careers of acts such as The Prodigy and Nine Inch Nails, still has a large, strong following worldwide, and there is an active online community who have shown great interest in these titles thus far.
In July 2011, a new line-up was announced, featuring Graham Crabb (as the only original member), fellow vocalist Mary Byker (Gaye Bykers On Acid Music, Apollo 440, Pigface), guitarist Tim Muddiman (Gary Numan Official), drummer Jason Bowld (Pitchshifter, Killing Joke: Official) and bassist Davey Bennett (This Burning Age). In October that year the album, New Noise Designed By A Sadist, was released on Cooking Vinyl, produced by Monti & Rob Holliday (Sulpher, The Prodigy) and was followed by a UK tour. The band further toured in March and December 2012. The single 'Disguise' was featured as BBC Radio 6 Music Breakfast Show 'Single of the Week' and an instrumental 'Back To Business' was used on Top Gear. Crabb & Byker also guested on Soccer AM. In December 2013 PWEI toured the UK as part of a triple bill with The Wonder Stuff and Jesus Jones.
Crabbi (vocals), Tim Muddiman (guitar), Davey Bennett (bass), Jason Bowld (drums), Mary Byker (vocals)