underpass presents:
Sunday Munch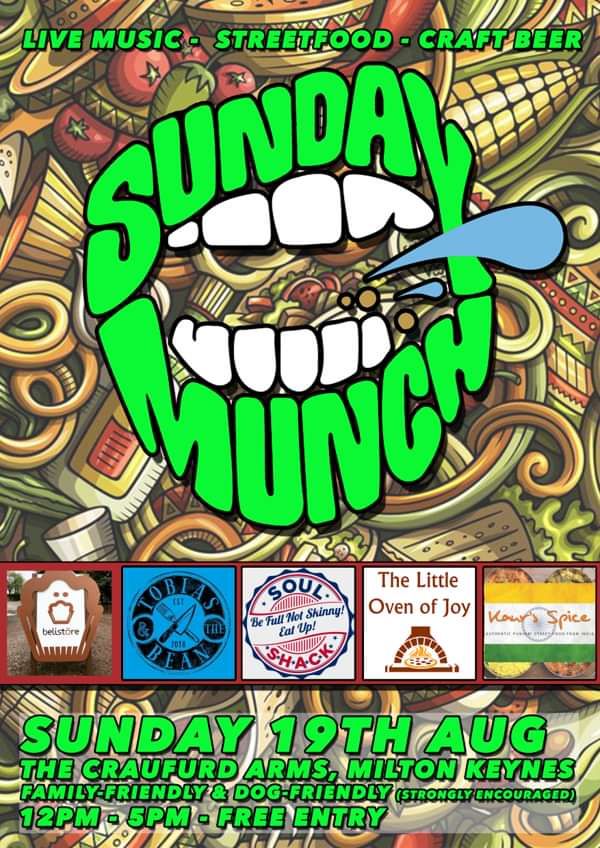 The Craufurd Arms is pleased to offer you the next instalment of monthly food offering, Featuring the best Independent street food vendors from around the country
SUNDAY 19th AUGUST 2018 12PM - 5PM
FAMILY AND DOG FRIENDLY!
FREE ENTRY
We are very excited to welcome
belistore Following the explosion of great, fresh savoury food in event catering and street food. The fresh sweet area is limited with little or no inclusion of chocolate. With this in mind, our products have been developed to fill this gap. Belgium double chocolate and wild Canadian blueberry are the staple flavours. Muffins are mixed and baked at each event, served so fresh they have a crispy crust.
Tobias & The Bean Bringing Milton Keynes a whole new street food experience guaranteed to change the way you think about fast food, With BBQ Boxes and VEGAN Alternatives including BBQ Pulled Jack Fruit .
The Little Oven Of Joy Neapolitan Style Wood Fired Pizzas, with Home grown ingrediants
Soul Shack Spreading the love of American Southern Food. Good for your soul! Southern women are strong and we love to cook. Get a piece of our southern hospitality!
Kaur's Spice Authentic Punjabi Street Food Traditional and authentic Punjabi Indian street food, There's something for vegetarians and vegans. (India has a huge vegetarian and vegan following due to religious beliefs) Tarka dhal, aloo gobi, aubergine and potato and much much more. To accompany the curries there will be rice, roti,puri or badhura.
Music and Entertainment through out the day
MAIN BAR MUSIC 1pm - 1:45pm - 2:30pm - 3:15pm - 4pm -
THE CRAUFURD ARMS 59 STRATFORD RD WOLVERTON, MILTON KEYNES MK12 5LT
FOLLOW US ON THE GRAM & TWITTER FOR UPDATES
instagram.com/craufurdarms twitter.com/craufurdarmsmk